---
Full-Arch Dental Implants (Teeth in a Day)
If you have no teeth with loose-fitting dentures and want something permanent, or if you have teeth that are in bad shape and looking for a smile makeover, then the All-on-4® treatment concept may be a good option. Through All-on-4®, it is possible to enjoy permanent teeth supported by dental implants. Our surgeons are experienced in providing successful All-on-4® treatment to replace teeth.
---
---
What are the Benefits of All-on-4®?
All-on-4® has the potential to transform your smile and rejuvenate your oral health. Some of the major benefits of All-on-4® include:
Replace all of your missing or bad teeth with a permanent option, so you can enjoy a normal diet and smile with confidence
The entire procedure (tooth removal and placement of dental implants) can be done in 1 procedure, and you can go home with teeth in your mouth
Avoid multiple procedures and major bone grafting, minimizing recovery time
---
What is Involved with the All-on-4® Process?
The process begins with a thorough consultation. During this appointment, your doctor will collect and obtain 3D imaging, perform a physical evaluation, and ask some questions about your medical history. The consultation also gives us an opportunity to outline treatment options that suit your budget and needs. We can also discuss anesthesia or sedation options for your comfort.
This treatment requires teamwork between clinicians. As specialists, we do all the surgical work (removal of teeth, bone reduction, placement of implants). We work hand in hand with your general dentist (or refer you to one), who will deliver the teeth anchored onto the implants.
After the surgery, you will be fitted with temporary teeth anchored to the implants.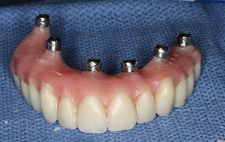 This will stay in place for 4 – 6 months while your implants heal. Your general dentist will then start the process of fitting you with your permanent teeth.
What are my other options for full-arch teeth replacement with dental implants?
Another option is a removable denture that is "snapped" into dental implants, also known as an overdenture. This is a more affordable option that is less invasive since it requires fewer implants. It does require manual dexterity for the patient to be able to seat and unseat the denture. Another advantage is hygiene is improved as it is easier to clean something that can be removed completely from the mouth.
---
You're in Good Hands with Our Doctors
Inland Empire Oral & Maxillofacial Surgeons has a reputation for clinical excellence, warm and welcoming patient care, and best-in-class technology. Our entire staff is committed to providing you with a smooth and comfortable experience, ensuring your safety while helping you achieve full restoration of your oral and facial health. To schedule a consultation, we invite you to contact us at one of our many locations.