Jeffrey Paxman, DDS
Oral & Maxillofacial Surgeon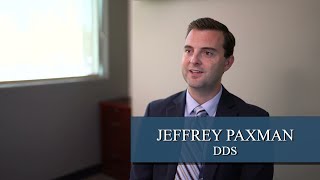 ---
Dr. Jeffrey Paxman is a native to the Inland Empire—born and raised in Redlands, California. He has had a keen interest in medical science for as long as he remembers. Dr. Paxman earned his Bachelor's degree in Exercise Science from Brigham Young University. After the completion of his BS degree, Dr. Paxman continued his education at Loma Linda University where he received his DDS and was inducted into the prestigious Omni Kappa Upsilon Honors Society for academic and clinical excellence. He then completed a residency program in Oral and Maxillofacial Surgery.
Upon graduation, Dr. Paxman accepted a faculty position with Loma Linda University Medical Center in the Oral and Maxillofacial Surgery Department and worked with residents to hone their skills in the field of surgery. This not only allowed Dr. Paxman the opportunity to teach about his passion but also helped him sharpen his own surgical skills. Dr. Paxman is thrilled to remain a part of the LLU staff as he joins Inland Empire Oral and Maxillofacial Surgeons.
Dr. Paxman enjoys and practices all aspects of Oral and Maxillofacial surgery including trauma, orthognathic surgery, bone grafting and reconstruction, wisdom teeth extractions, and dental implants with a special interest in the esthetic zone. His enthusiasm for and knowledge of oral surgery, combined with his precise surgical skills are demonstrated through his quality work. However, his attentiveness to patient care and calming demeanor are his hallmarks.
Dr. Paxman and his wife, Cara, have three beautiful children: Luke (9), Mae (7), and Paul (5). Outside of work Dr. Paxman enjoys spending time with his family. He also enjoys golfing, camping, and wakeboarding.
As an Inland Empire native, he is honored to serve a community that is filled with family, friends, and fond memories.
---
Inland Empire Oral & Maxillofacial Surgeons
5
out of
5
stars based on
23
Dr. Jeffrey Paxman reviews.
---
Our Latest Patient Testimonial
Dr. Paxman and the staff were very kind and professional. My wisdom teeth extraction went by like a breeze — I felt so comfortable going into and coming back out of it that I was like, "Hey, that was great. Let's do that again!" In the recovery area, one of the nurses and I went over what the recovery process was like and answered any questions I may have had. They provided me with a tropical smoothie, a take-home kit that proved very useful, and a set of clear instructions that left me feeling confident in my recovery. The next day, they even called to check in on how I was doing. Any discomfort or inflammation I felt over the next several days was minimal and easy to manage. Overall, I felt incredibly well taken care of throughout my first surgical experience. Thanks Janice, Tabitha, Lauren, and Dr. Paxman!
- Mikhail F
5

out of

5

stars
by
Mikhail F
on
Our Latest Patient Testimonial
I hope we only meet again socially. (just kidding.)
- Tom W
5

out of

5

stars
by
Tom W
on
Our Latest Patient Testimonial
I was treated so well by the staff and Dr. Paxman. Everyone was friendly and professional. I have complete confidence in Dr. Paxman and all. I really appreciated the delish smoothie I was given when leaving the office. They even provided a Lipton tea bag to take home. Thank you all for the wonderful treatment and your professionalism.
- Donna G
5

out of

5

stars
by
Donna G
on
Our Latest Patient Testimonial
I HIGHLY recommend Dr. Jeffrey Paxman and his amazing staff at the Redlands office. My initial consult and my tooth extractions were completed in a most timely fashion. All staff are extremely professional and personable. They explained the process with great clarity. I had my tooth extracted today. The process was comfortable, efficient, and extremely caring. A fruit smoothy before leaving was a most wonderful surprise!!!! If all dental offices were this comfortable I would have gone more often. Many thanks to ALL of you!!!
- Colleen K
5

out of

5

stars
by
Colleen K
on
Our Latest Patient Testimonial
Friendly and professional
- Melanie H
5

out of

5

stars
by
Melanie H
on