Danny Kim, DDS
Oral & Maxillofacial Surgeon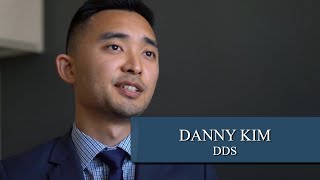 ---
Dr. Danny Kim was born in South Korea. He spent the majority of his childhood moving between South Korea and Southern California, which provided him the unique opportunity to be bilingual. He attended the University of the Pacific where he completed the 3+3 Pre-dental accelerated program and received both his bachelor's and DDS degree. Upon completing dental school, he fulfilled a one-year internship at Parkland Memorial Hospital in Dallas, Texas. Dr. Kim then completed his Oral and Maxillofacial Surgery Residency at Broward Health Medical Center/Nova Southeastern University located in Fort Lauderdale, FL.
Outside of work, Dr. Kim enjoys playing sports including basketball, tennis, and soccer. He is a devoted Lakers fan and is excited to be back in his hometown to root for his favorite team. Dr. Kim also enjoys watching movies and traveling. One of his most memorable travel experiences is backpacking in Machu Picchu.
He is excited to be the newest addition to the team and looks forward to serving the Inland Empire community.
---
Inland Empire Oral & Maxillofacial Surgeons
5
out of
5
stars based on
22
Dr. Danny Kim reviews.
---
Our Latest Patient Testimonial
I rarely write reviews but I had to write my experience with this practice. Dr Kim, staff and just his whole practice. Starting with my greet before surgery with the Dr assistant , I think her name is Connie, she was an angel who kept me calm and she patiently answered all my questions and made sure I was ok before the surgery. Sorry if I got your name wrong but if you see this review I want to sincerely thank you from the bottom of my heart. Now with Dr Kim, He was very patient with me , professional and most of all the procedure he did of extracting 2 molar was surprisingly quick and close to painless. It was a procedure far from what I imagined it might be. It was So quick I didn't realize my teeth was out until he showed me. He is a very skilled and talented . Dr Kim, you saved my life and I want to thank you from the bottom of my heart ️
- Lawrence L
5

out of

5

stars
by
Lawrence L
on
Our Latest Patient Testimonial
Look, no one looks forward to having the necessary procedures carried out by IEOMFS - Anticipating an extraction procedure can be very stressful! However, during my recent procedure, the staff took great care making it easy for me to bear the experience of my molar extraction. Dr. Kim, Rebecca, and Ashlyn provided me with the highest level of care and made my experience as good as it could be, all things considered. They comforted my initial nervousness beforehand and took great interest in the level of my comfort during my extraction procedure. In the end, I'm sure they could have performed my extraction any quicker than they did - A mere 30 minutes passed from the time I entered the office, until the time I exited. I worried about pain after the procedure, but they took great care to have as little contact with my gums as possible during the procedure, and aside from light pain in the area of the extraction, I had no other pain. Honestly, I have experienced greater levels of pain from having my teeth cleaned! So if you need an extraction, I highly recommend IEOMFS. You can trust them to provide you with great care!
- Miles B
5

out of

5

stars
by
Miles B
on
Our Latest Patient Testimonial
Great staff, not just one, the whole team gave me the time and attention and care that I had not yet experienced in my 60 years. Would definitely recommend this team to anyone including chickens like me. 😉
- Daniel A
5

out of

5

stars
by
Daniel A
on
Our Latest Patient Testimonial
Dr. Kim and Connie, are awesome! They spend time going over the procedures and aftercare treatments. They answered all my questions and even call the next day to check on my recovery. thumbs up!
- K A
5

out of

5

stars
by
K A
on
Our Latest Patient Testimonial
I am a very! nervous dental patient. I prepared for the worst. However, I couldn't have had a more welcoming, calming, easy dental experience than my visits to Dr. Kim's office. Dr. Kim was kind, thorough, and understanding. The Staff was absolutely warm and friendly. They quickly put me at ease. The procedure went very well. The recovery was quick and easy, which I think is attributed to the thorough work from Dr. Kim. I would strongly recommend Dr. Kim's office. They were fantastic!
- Carmen E
5

out of

5

stars
by
Carmen E
on